Kas buvo patyrę rytinį aštrų pado skausmą, puikiai supranta kaip tai gali varginti. Kiekvieną rytą atsikėlus ir išlipus iš lovos pirmieji žingsniai būna tarsi vaikštant per stiklo šukes. Ir kiekvienas rytas būna toks pat… vieną dieną šiek tiek geriau, kitą – šiek tiek blogiau. Ir taip pado skausmas tampa įkyrus ir erzinantis.
"Kas buvo patyrę rytinį aštrų pado skausmą, puikiai supranta kaip tai gali varginti." 
Tradiciškai ši būklė vadinama plantariniu fascitu, kuria skundžiasi iki 10 proc. visų žmonių. Skausmas dažniausiai jaučiamas ties kulnakauliu, daugiau vidinėje pusėje, ten kur prisitvirtina plantarinė (pado) fascija. Seniau buvo manoma, kad plantarinis fascitas atsiranda dėl pėdos fascijos uždegimo, todėl ir buvo pavadintas plantariniu fascitu (angl. plantar fasciitis), nes galūnė –itis kaip tik ir parodo uždegimą). Tačiau, kaip vėliau buvo nustatyta, toje vietoje dažniausiai uždegimo nebūna! Tada kyla klausimas, tai kodėl man skauda padą? Buvo nustatyta, kad toje vietoje dėl per didelės apkrovos atsiranda smulkūs plantarinės fascijos pažeidimai. Dėl šios priežasties pradžioje skausmo galite nejausti, o tik būklei pažengus skausmas atsiranda. Taip pat toje vietoje gali formuotis kaulinės ataugos, kulno pentinai, druskos ar kiti baisūs dalykai… nors ne tokie ir baisūs, bet apie juos šiek tiek vėliau.
Plantarinė fascija tvirtinasi prie vidinio kulnakaulio gumburėlio ir tęsiasi iki pat pirštakaulių. Pastaroji kartu su kitais vidiniais pėdos raumenimis suformuoja pėdos skliautą. Esant sveikai pėdai atkeliant pirštus nuo žemės, pado vidinis skliautas turėtų pakilti aukštyn. Tokiu būdu užtikrinant pėdos stabilumą einant. O dažnu atveju, kaip tvirtai mes galime stovėti, eiti ir bėgti, priklauso nuo stabilios pėdos.
Plantarinę fasciją sudaro trys pluoštai: centrinis, šoninis ir vidinis. Storiausias ir tvirčiausias yra centrinis pluoštas. Taip pat gana storas yra šoninis pluoštas, o vidinis pluoštas yra ploniausias ir silpniausias. Turbūt šie skaičiai nelabai, ką sako, bet kad būtų galima lengviau įsivaizduoti, centrinio pluošto storis būna apie 4 mm, šoninio 2,3 mm, o vidinio tik 0,6 mm.
Plantarinio fascito metu jaučiamas aštrus pado skausmas vidinėje dalyje ties kulnakauliu ar plinta nuo kulnakaulio link pirštų. Dažniausiai simptomai jaučiami žengiant pirmuosius žingsnius išlipus iš lovos ar po ilgesnės poilsio pertraukos, ilgiau pavaikščiojus ar pastovėjus, gali būti jaučiamas vienos ar abiejų pėdų. Skausmą dažniausiai jaučia vidutinio amžiaus fiziškai neaktyvūs žmonės arba jauni sportuojantys.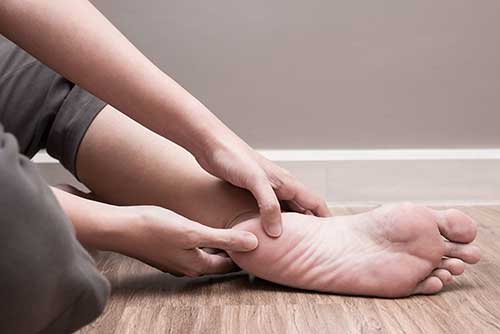 Tarp sportuojančių žmonių dažniausiai pado skausmu skundžiasi bėgikai (8 proc. tarp visų bėgikų traumų). Sportuojantiems žmonėms pradinėje plantarinio fascito stadijoje jaučiamas skausmas apšilimo metu, o apšilus simptomai sumažėja. Būklei progresuojant, simptomai išlieka net ir apšilus, pėda tampa sustingusi, o kartais stebimas net ir patinimas ties kulnakauliu.
Rizikos veiksniai pado skausmui atsirasti
Rizikos veiksniai gali būti vidiniai ir išoriniai. Vidiniai rizikos veiksniai susiję su kūno charakteristikomis (anatomija, funkcija ar degeneraciniais faktoriais), o išoriniai rizikos veiksniai susiję su fiziniu aktyvumu (per dideliu krūviu, netaisyklingomis treniruotėmis, netinkama avalyne).
Vidiniai rizikos veiksniai:
anatominiai – per žemas ar per aukštas pėdos skliautas, per didelė pėdos pronacija, kojų ilgių skirtumas, per didelis šlaunikaulio pasisukimas į vidų ar per didelis blauzdikaulio pasisukimas į vidų bei nutukimas.

funkciniai – sumažėjusi nykščio ir čiurnos judesių amplitudė (sumažėjęs blauzdos, šlaunies užpakalinės raumenų grupės ar Achilo sausgyslės elastingumas), silpni pėdos, blauzdos ar sėdmenų raumenys.

degeneraciniai – plantarinės fascijos sustingimas, riebalinio audinio ties kulnakauliu degeneracija.

sisteminės ligos – reumatoidinis artritas.
Išoriniai rizikos veiksniai:
Perkrova – per didelė mechaninė apkrova dėl, kurios atsiranda smulkūs plyšimai.

Netaisyklingos treniruotės – per greitai padidintas bėgimo atstumas, greitis ar trukmė, per daug treniruočių ir mažai poilsio.

Netinkama avalynė – netolygiai sunešioti batai padidina krūvį tenkantį pėdai.
Kaulinės ataugos ir pado skausmas
Kaulinės ataugos gali susidaryti įvairiose kūno vietose. Ne išimtis ir kulno sritis. Kaulinės ataugos kulno srityje dar dažnai vadinami kulno pentinais ir jos gali būti įvairių formų – horizontalios, vertikalios ar net kablio formos! Manoma, kad jos susidaro dėl nuolatinio plantarinės fascijos traukimo ties prisitvirtinimo vieta. Kūnas kompensuodamas ir bandydamas apsisaugoti išaugina kaulinę ataugą. Nuotraukoje pateikiu, kaip atrodo horizontali kaulinė atauga. 
Seniau kaulinę ataugą nurodydavo kaip pagrindinę pado skausmo priežastį, atsirasdavo stebukladarių specialistų, kurie siūlydavo nulaužyti ataugas savo pirštais ar įvairiais prietaisais. Tačiau… tie žmonės likdavo apgauti – ataugos kaip būdavo, taip ir likdavo, o jei skausmas sumažėdavo, tai tik dėl stebuklingojo PLACEBO!
Vėliau atlikus daugybę tyrimų tapo aišku, kad jeigu jūs turite kaulinę ataugą, tai ji tikrai nėra pagrindinė priežastis, kodėl jums skaudą padą. Kaulinių ataugų galima rasti lygiai tiek pat pas tuos, kuriems skauda padą ir lygiai tiek pat pas tuos, kuriems pado neskauda, neskaudėjo ir tikriausiai niekada neskaudės. Kaip vėliau paaiškėjo ir dabar yra priimta manyti, kad skausmą gali sukelti sustorėjusi plantarinė fascija ir riebalinė pado pagalvėlė.
Pado skausmo gydymo būdai
Gydant plantarinį fascitą vienas iš svarbiausių veiksnių, galinčių nusakyti, ar žmogus pasveiks ar ne, kaip greitai pradeda spręsti šią problemą. Tinkamai gydant plantarinį fascitą, per pirmus 3-6 mėnesius net 90 proc. žmonių skausmas ženkliai sumažėja, tačiau daliai pacientų simptomai gali išlikti net ir 2 metus.
Yra taikoma daug skirtingų gydymo būdų ir mokslininkai bei specialistai nesutaria, kurie būdai yra efektyviausi ir gali žmogui labiausiai padėti. Dažniausiai yra naudojami vaistai nuo uždegimo, kineziterapija, kortizono injekcijos, ortopediniai vidpadžiai, fizioterapija,  proloterapija, trombocitais praturtintos plazmos injekcijos, smūginės bangos terapija ir kt. Pagrindinius būdus aptarsiu plačiau.
Vienas iš pagrindinių plantarinio fascito gydymo būdų yra kineziterapija. Taip pat tai vienas iš nedaugelio gydymo būdų, kuris yra moksliškai įrodytas ir suteikia ilgalaikių rezultatų. Pado skausmo atveju kineziterapeutas turėtų įvertinti laikyseną (bendrą, kojų ir pėdų), pėdos ir kojos sąnarių amplitudes, raumenų jėgą bei ištvermę, jeigu to reikia atlikti papildomus testus ir tokiu būdu parinkti jums pritaikytus pratimus. Dažniausiai yra parenkami tempimo, volavimo bei raumenų stiprinimo pratimai skirti pėdoms ir kojoms. Labai svarbu suprasti, kad norint atsikratyti skausmo, svarbu atlikti nurodytus pratimus. Kai kuriuos turbūt nuvilsiu, bet neįdėjus pastangų, pasveikti yra labai sunku.
Taip pat sportuojantiems žmonėms jaučiantiems pado skausmą svarbu keisti ir pritaikyti treniruočių trukmę, dažnį, intensyvumą ir nuoseklumą. Neretai pasitaiko, kad sportuojantys žmonės naudoja netinkama avalynę, todėl svarbu įsivertinti ar jūsų bėgimo bateliai yra tinkami.
Smūginė bangos terapija naudojama gydyti lėtines sausgyslių ligas. Šis metodas taikomas gydyti peties kalcifikuojantį tendinitą, Achilo tendinopatiją, lateralinį ar medialinį epikondilitą bei plantarinį fascitą.
Smūginės bangos terapijos metu sukuriami impulsai į specifiškai pasirinktą nedidelį kūno plotą. Tokiu būdų toje vietoje skatinant gijimo procesus. Nepaisant to, kad moksliniai tyrimai rodo simptomų pagerėjimą vieneriems metams, tai yra vienas iš pasirinkimo būdų, siekiant sumažinti skausmą.
Trombocitais praturtintos plazmos injekcija
Iš žmogaus yra paimamas kraujas ir atskiriama kraujo plazma kartu su trombocitais nuo kitų kraujo kūnelių. Trombocitais praturtinta kraujo plazma suleidžiama į skausmingą vietą, tokiu būdu paskatinant natūralius gijimo procesus. Pradžioje skausmas gali suintensyvėti, o vėliau skausmas turėtų mažėti. Kaip rodo moksliniai straipsniai šis gydymo būdas yra veiksmingas apie vienerius metus, kai kuriais atvejais skausmas grįžta į prieš tai buvusį lygį kur kas greičiau, o kai kuriais atvejais skausmas išnyksta visam laikui!
Kortikosteroidų injekcijos
Kortikosteroidų injekcijos yra dar vienas būdas, kaip galima kovoti su plantarinio fascito sukeltais simptomais. Ši injekcija būna veiksminga nuo kelių mėnesių iki metų ir yra nemaža tikimybė atsinaujinti simptomams. Kartojant injekcijas sumažėja jų efektyvumas ir atsiranda šalutinių poveikių tikimybė. Toje vietoje, kurioje yra suleidžiama injekcija, padidėja plantarinės fascijos plyšimo tikimybė. Todėl svarbu pasitarti su jus gydančiu gydytoju apie šio metodo privalumus ir trūkumus.
Plantarinio fascito metu operacijos yra atliekamos tik tada, kai anksčiau paminėti konservatyvaus gydymo būdai nebuvo efektyvus 6-12 mėnesių laikotarpyje.
Plantarinio fascito metu skausmas dažniausiai jaučiamas vidinėje pado dalyje netoli kulno, toje vietoje kur ir prisitvirtina plantarinė fascija. 
Dažniausiai jaučiamas simptomas – pado skausmas žengiant pirmuosius žingsnius atsikėlus ryte iš lovos
Jeigu turite kaulinę ataugą ant kulno – nebūtinai reiškia, kad dėl to jums turi skaudėti padą. 
Pado skausmo gydymui naudojama daug skirtingų gydymo būdų. Iš jų efektyviausi yra kineziterapija, smūginės bangos terapija, trombocitų praturtintos plazmos bei kortosteroidų injekcijos. Tačiau moksliniai tyrimai nerodo vieningų rezultatų, kuris gydymo būdas yra geresnis už kitą.
optimistas, fiziškai aktyvus žmogus, kineziterapeutas
Sek mus socialiniuose tinkluose