Sportas namuose - 5 dažniausios klaidos
Ar sportas namuose gali pakeisti sportą treniruočių salėje? Tikriausiai labai individualu ir priklauso nuo jūsų tikslų. Jeigu norite užsiauginti didelius raumenis ir tapti fitneso čempionu.. Greičiausiai Jums nepavyks. 
O jeigu jūsų tikslas – gera sveikata, gera savijauta ir nenorite tapti couch potato (liet. bulve ant sofos), sportas namuose gali padėti jums šiuos tikslus įgyvendinti.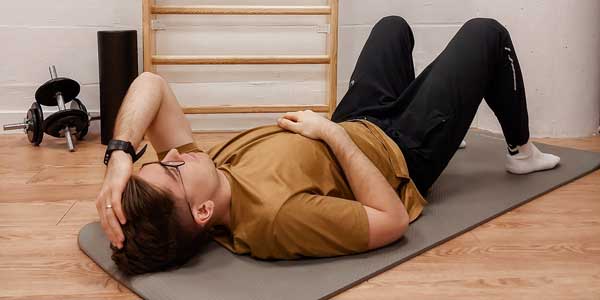 Kalbant apie sportą namuose galime rasti ir pliusų, ir minusų. Tie, kurie jau išbandė sportą namuose pirmiausiai pamini, kad sutaupo laiko bei pinigų, sumažina nereikalingų kontaktų su žmonėmis skaičių ir jaučiasi kur kas jaukiau išvengdami aplinkinių žvilgsnių.
O minusai… Sunku prisiruošti sportuoti, trūksta žinių ir įgūdžių kaip namų treniruotę paversti pilnaverte bei įdomia ir atsibosta ta pati namų aplinką – sunku ilsėtis, dirbti ir sportuoti toje pačioje vietoje. 
Nemažai minusų žmonės atranda dėl įsitikinimų ar išankstinio nusistatymo prieš sportą namuose. Bet tai dažniausiai būna tiesiog vienas iš pasiteisinimų apskritai NESPORTUOTI.
O jeigu Jūs nesate nusistatęs PRIEŠ. Štai 5 dažniausios klaidos, kurių reikia vengti sportuojant namuose:
"Nemažai minusų žmonės atranda dėl įsitikinimų ar išankstinio nusistatymo prieš sportą namuose. Bet tai dažniausiai būna tiesiog vienas iš pasiteisinimų apskritai NESPORTUOTI." 
Sportuojant namuose labai lengva pakliūti į pratimų burbulą. Ką tai reiškia? Sportuodami atrandate mėgstamiausius pratimus. Kadangi jie jums labai patinka – nuolatos darote tuo pačiu būdu bei principu ir nieko nekeičiate! Pradžioje sportuoti būna labai įdomu, o  po sporto jaučiatės pavargę, bet geresnės nuotaikos ir savijautos.
Ilgainiui pratimai pabosta, kūnas pripranta prie to paties stimulo ir treniruotes namuose padedate į artimiausią lentyną ir galvojate: "ai, tiek to… laimingas ir nepasportavęs". 
Todėl sportuodami namuose – pakeiskite pratimus, atlikite skirtingas variacijas, padidinkite ar sumažinkite tempą, pakeiskite pakartojimų bei serijų skaičių, trukmę ar darykite pratimus skirtingais režimais. Taip sportuoti bus kur kas įdomiau ir efektyviau!
2. Poilsis - tik silpniems! Noriu čia ir dabar!
Šiuolaikinio miestiečio gyvenimo tempas yra be proto greitas. Esame įpratę gauti viską greitai – čia ir dabar. Esame maksimalistai.
"Pavyzdingas" sportuotojas yra maksimalistas, kuris galvoja, kad daugiau yra visąlaik geriau. Pastarasis sportuodamas nori spausti save kiekviename pakartojime ir serijoje. Darydamas kiekvieną pratimą "iki negaliu", mintyse sau kartoja mantra – poilsio pertraukos ne man, o kuo daugiau padarau, tuo geriau!
O prie viso šito "pavyzdingas" sportuotojas nusprendžia nebeskirti laiko poilsiui, sportuodamas kiekvieną dieną ir braukdamas prakaitą nuo kaktos galvoja, kad diena be sporto, yra bloga diena. 
Tačiau yra kita obuolio pusė. Mūsų kūnas stiprėja po fizinio krūvio poilsio metu. Užsiimdami fizine veikla turime atrasti pusiausvyrą tarp sporto ir poilsio. Ir tik tai atradę, galime eiti spėriais žingsniais link sveikesnio ir stipresnio kūno.
Sąnariai, raiščiai ir sausgyslės prie krūvio prisitaiko TRIS KARTUS lėčiau nei raumenys. Per daug staigiai padidinus krūvį, galime gauti traumą lygioje vietoje.
Sportuodami namuose krūvį didinkite palaipsniui, kad kūnas spėtų adaptuotis ir taptų stipresnis bei sveikesnis. 
3. Nesusitelkimas į treniruotę
Namų aplinkoje galime rasti daugybę skirtingų stimulų, kurie blaško mūsų dėmesį. O dar kai šiek tiek tingisi sportuoti, bet kas gali pasirodyti įdomiau už sportą.  Pradedant nuo laisva ranka pasiekiamų ekranų, vaikų, kurie pamatę tėvelius sportuojant kabinasi ant kaklo ir taip dar labiau apsunkina sunkiai atliekamus atsispaudimus ir baigiant antrąja puse, kuri patogiai įsitaisiusi ant sofos ir komentuoja  "kaip čia negerai kažką darai". 
4. Kam ta pramankšta ar tempimo pratimai?
Jeigu esate paprastas mirtingasis, jūsų namuose vargiai rasime įprastus treniruoklius skirtus atlikti pramankštą – bėgimo takelį, elipsinį ar irklavimo treniruoklį bei stacionarų dviratį.
Todėl prireikia daugiau patirties ir idėjų kaip galima atlikti pramankštą, kuri padėtų paruošti kūną darbui – pakeltų temperatūrą, paspartintų širdies susitraukimų dažnį, išjudintų sustingusius sąnarius bei paruoštų nervų sistemą sudėtingesniems pratimams ir judesiams.
Pramankštos metu turėtų būti atliekami mažo tempo/intensyvumo pilnos amplitudės viso kūno judesiai, cikliniai (ėjimas ar bėgimas vietoje), DINAMINIAI tempimo (atliekami su judesiu) ir mobilumo  (skirti pagerinti sąnarių amplitudę) pratimai. Taip pat dėmesys turėtų būti skiriamas raumenų disbalanso mažinimui ar toms vietoms, kuriose kartkartėmis pajaučiate diskomfortą ar nemalonų pojūtį.
Ir taip pat treniruotei atidavus visas sukauptas jėgas dažnai užmirštami STATINIAI tempimo pratimai (raumens tempimas 20 sekundžių ir daugiau). 
Juos turėtume atlikti pagrindiniams raumenims, kuriems teko didžiausias krūvis. Taip pat rekomenduojama atlikti tempimo pratimus probleminėms sritims.
Ir pamatysite, kaip kūnas jums padėkos.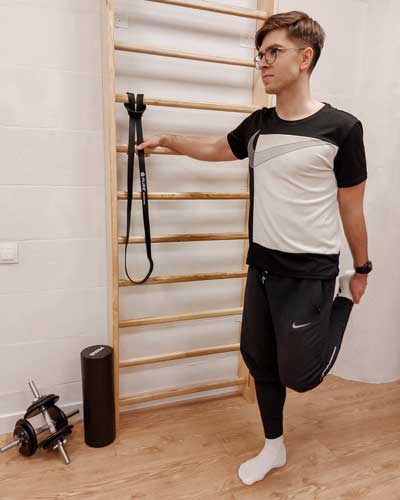 5. Kas kaip moka, tas taip sportuoja
Sportas namuose tampa dideliu iššūkių pradedantiesiems entuziastams. Ne vien tik, kad namų aplinka nuolatos trukdo sportuoti, bet ir tai, kad pratimai dažnai yra techniškai sudėtingesni – nepakanka pasiėmus svorį, lankstyti ranką per alkūnės sąnarį ir ties tuo užbaigti savo namų treniruotes.
Dažniausiai sportuojant namuose ir atliekant pratimus su savo kūno svoriu reikia gebėti atlikti sudėtingesnius judesius, kurių metu juda keli sąnariai vienu metu. Reikia gebėti suderinti visus judesius tarpusavyje ir išlaikyti atitinkamą nugaros, pėdų, kelių, pečių ar kitų sąnarių padėtį. 
Todėl sportuodami namuose būtinai skirkite laiko pasidomėti, kaip reikėtų atlikti vieną ar kitą pratimą, o jeigu vis tiek būna neaišku, klauskite kompetentingų žmonių, kurie jums galėtų padėti. 
Jeigu nuspręsite sportuoti namuose, stenkitės išvengti aukščiau paminėtų klaidų. Ir tuomet sportas namuose bus puikus sveikatos ir geros savijautos šaltinis. 
optimistas, fiziškai aktyvus žmogus, kineziterapeutas
Sek mus socialiniuose tinkluose